It is time for another Great Things and for all you Crochet fans, I have another great pattern writer to share with you. Today, I want to introduce Ambassador Crochet!

Kristine Mullen is the creator of Ambassador Crochet. She is very talented and her patterns are very easy to understand. Before I show off some of her patterns, I want you to know a little about Kristine. Here is her biography from her blog,
Ambassador Crochet
:
"
I am a wife to my hubby of 10+ years, and mom to 6 great kids ranging from 18 to 16 months (1 boy & 5 girls). I homeschool my youngest 5, who are all the girls, and they are where the majority of my inspiration comes from.
I began designing my own patterns in 2007 when a friend of mine had a baby 10 weeks premature. I spent 2 weeks looking for a preemie blanket I liked, but couldn't find what I was looking for. So, instead I set out on a journey to create what I wanted. I realized I loved designing and have never looked back. If you have something in mind that you'd like created don't hesitate to send me a message. I'll see what I can come up with."
I recently made the
Sunshine Flower Beanie from Ambassador Crochet
. I made one for my sweet Anna and one for GraciAnn's (Shannon's oldest daughter) birthday gift.
Here is Anna in the Sunshine Flower Beanie. She is on the run these days, which makes it very hard for me to get the best pictures.
Sorry, she is just too sweet not to share her cute little face.
Here is a shot of just the beanie itself.
Here is the one I made for GraciAnn. You will see this again soon as I made this one to match a baby doll dress. I will share that soon.
I highly suggest this pattern. It was very easy to make and the fit is perfect. I know I will be making these for many little gals in the future. On to more wonderful pattern pictures. . .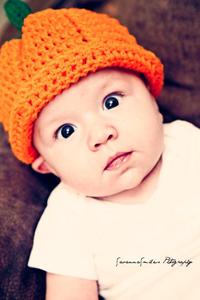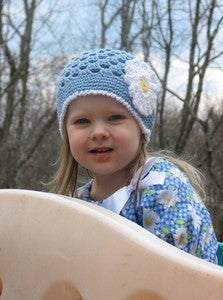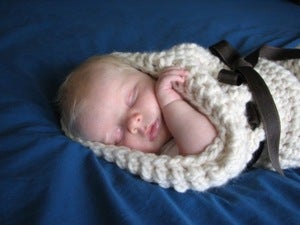 There are many ways you can connect with Kristine of Ambassador Crochet. You can get the most up-to-date information by liking her
Facebook page
. You can follow
her blog
and she gives a few free crochet patterns on there as well! Most importantly, you can buy patterns from
her big cartel shop
or
her etsy shop!
Deals are good, but FREE is even better. Kristine has offered to giveaway three of her patterns. To allow more people to enjoy these fabulous patterns, I will pick 3 winners to each win a pattern! I know after trying one pattern, you will want more!
Here is how you can win a new pattern!
*Leave a separate comment for each entry.
4. Do you follow Our Seven Dwarfs on blogger? (see sidebar under Follow us) Leave us a comment telling us you do or become a new follower and leave us a comment telling us you follow OSD now. By the way this is a great way to view all your favorite blogs in one place!

5. Send some love to Kristine on
Facebook
. Go like her page and then tell her Our Seven Dwarfs sent you! Leave a comment here that you did give some love! *Make sure to click on the little lock button (choose everyone) when you post on facebook so this shares your post with everyone. That gives more love to all!
There you have it, 5 possible entries. You don't have to do all of them, but it sure increases your odds of winning!
Giveaway ends at midnight (EST) on October 15. Winners will be chosen on Sunday, October 16. All winners will have 48 hours to claim their prize by emailing us at
oursevendwarfs@gmail.com
.
Good luck and enjoy this Great Thing!